When starting to build a Magento online store, you'll face a necessity to choose between its three editions:
A free Magento Open Source version.
Magento Commerce offering official Magento support and implying paying the platform usage fee.
Magento Commerce Cloud, which is a cloud-based eCommerce platform hosted by Amazon Web Services.
Despite being the simplest option, Magento Open Source is the best choice for those who run small to medium-sized businesses. The platform offers great flexibility and substantial customization, enabling you to add new features via various extensions. The article describes Magento Open Source in detail and considers all its key features and benefits.
What Is Magento Open Source?
Magento Open Source is a free, open-source eCommerce software. Originally cooked up back in 2008, it quickly caught on and has since become a powerhouse for those looking to set up online shops without breaking the bank.
You may build a one-of-a-kind, customizable web store using the Magento Open Source version. It helps create the right appearance, feel, and functionality of your store to match your brand, thanks to the extensive selection of Magento extensions. The Magento Open Source platform also includes strict security controls that guarantee PCI compliance and safeguard customer data.
Yet, Setting it up might require diving into some technical territory. All in all, Magento Open Source is perfect for those who have a knack for the technical side of things or have the resources for tailored Magento development services.
Magento Open Source Features
Open Source Magento is well known for its rich functionality and excellent customizability, making it ideal for managing and scaling online operations for small enterprises. Let's look at some of the most important features:
Catalog Management
Magento's Catalog Management is like your librarian – always on hand to organize and categorize products. With its robust catalog management system, Magento can accommodate almost any product, from basic, single items to more complex grouped, packaged, and even virtual ones. It lets you set up products in a snap, group them together, and even add unique attributes. A Catalog system can assist businesses with inventory by handling an infinite number of goods. Among other Magento Open Source Capabilities:
To distinguish products, develop product characteristics and attribute sets;
Establish a hierarchy of categories and subcategories;
Obtain alerts when stock levels are low;
Create galleries with several images for each product you upload;
Allow consumers to rate and review items;
Provide advanced search.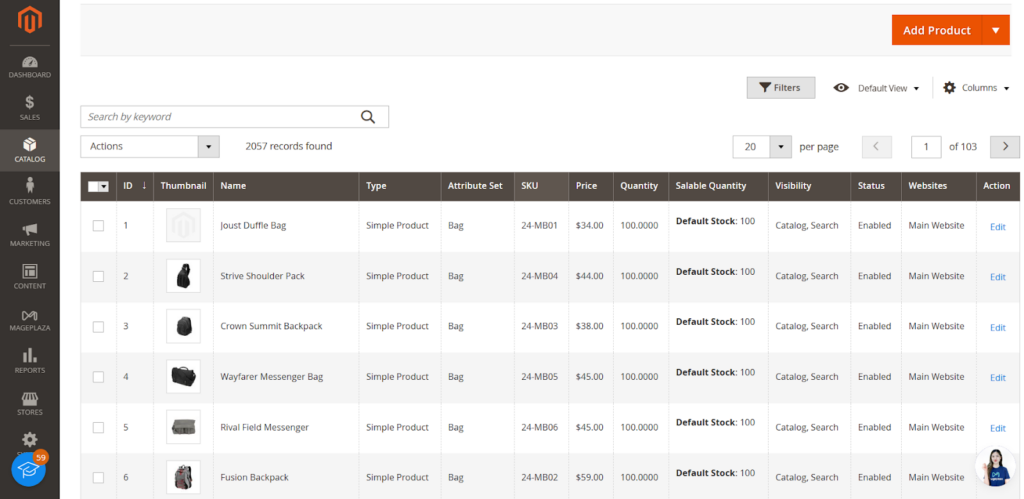 Screenshot taken on the official Adobe website
Site Management
Want to switch things up with a different theme for a seasonal vibe? Or maybe run several stores with varying looks? This feature is covered. With the help of site administration features offered by Magento 2 Open Source, eCommerce businesses can efficiently manage and maintain their online stores. It enables you to personalize the storefront to reflect your company's identity and offer a distinctive customer experience. Manage numerous online stores from a single admin panel and easily adjust a store's layout and design.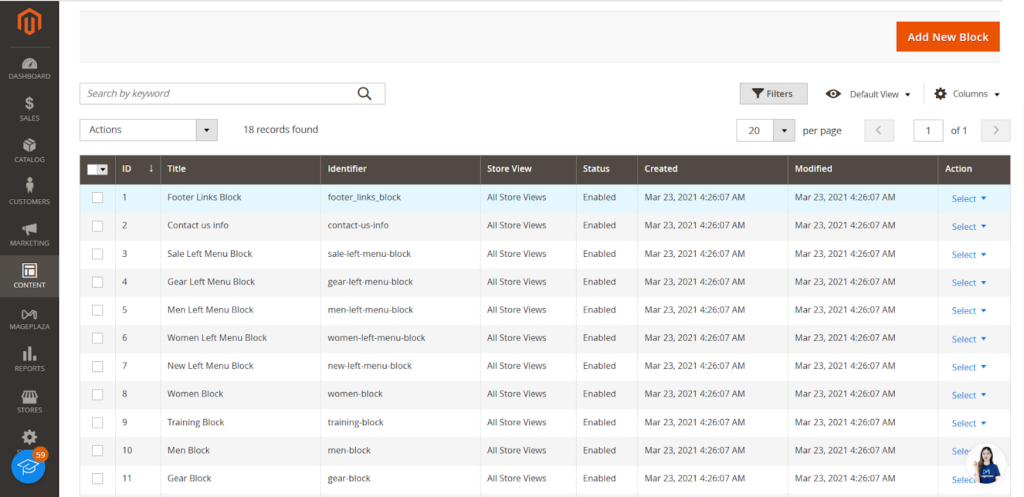 Screenshot taken on the official Adobe website
Payment and Shipping Management
Customers may enjoy a flawless and practical buying experience with the help of a variety of checkout, payment, and shipping services offered by Magento 2 Open Source. You will be able to provide a variety of shipping and payment choices. In addition, Magento Open Source enables the setting of custom shipping limitations and regulations. What else do you get:
One-page checkout;
Guest checkout;
Auto-complete;
Payment processing;
Payment data storage;
Calculations of shipping rates in real-time;
Order tracking capabilities.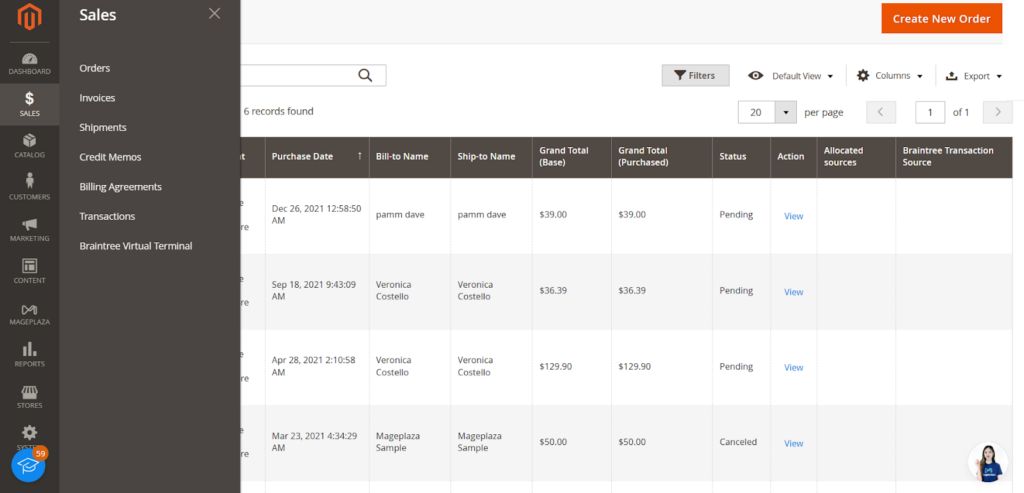 Screenshot taken on the official Adobe website
Customer Services
To assist eCommerce companies in providing exceptional support and guarantee customer satisfaction, Magento 2 Open Source offers a number of customer care capabilities. These functions are intended to improve communication, respond to client questions, and efficiently handle problems. For instance, it allows the creation of a knowledge base, gives the ability to reply to client emails directly from the admin panel, and sends automated email alerts to customers on order status changes.
SEO
Meta titles, meta descriptions, and other metadata can be set up at the product level, or templates can be made to update product metadata with placeholders automatically. Additionally, it supports canonical URLs, which stop search engines from indexing duplicate URLs. All goods come with structured data markups by default. By giving search engines access to this information, they may enhance product listings on search engine results pages.
Having doubts about how to leverage Magento standard functionality to rank highly in Google Search Results? Have no worries. Most Magendo web development agencies have a standard SEO punch-list they implement to ensure maximum search results visibility.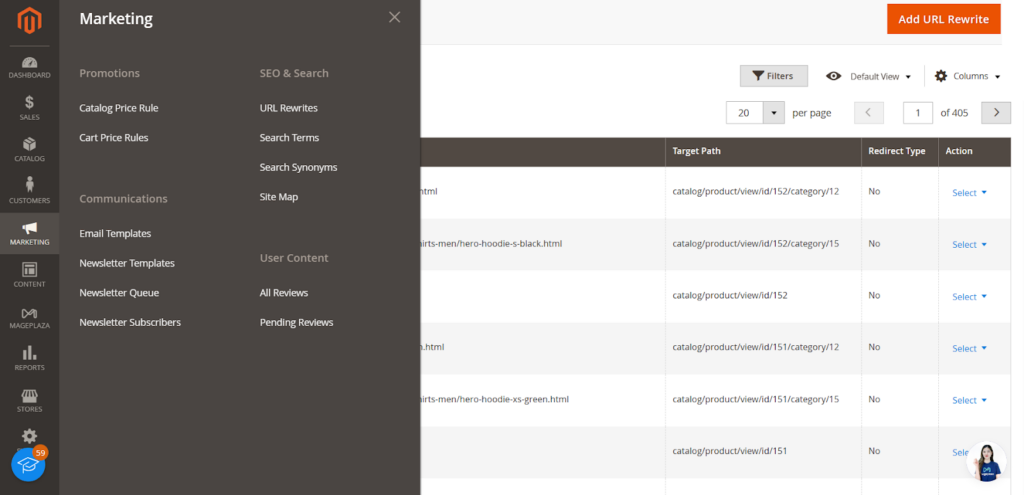 Screenshot taken on the official Adobe website
Promotions
Magento businesses may offer intricate promotions with pricing rules implemented at the catalog and cart levels. Since these are catalog-level triggers, no discount codes are necessary to activate them. You may enact discounts and alter the pricing of goods in the shop catalog using established rule parameters like clientele groups, product categories, color, size, or any store feature.
Analytics and Reporting
The analytics and reporting capabilities provided by Magento 2 Open Source enable eCommerce companies to learn more about their performance, client behavior, inventory, third-party integrations efficiency, sales and general eCommerce trends, etc. This data helps make decisions, adjust tactics, and foster business prosperity.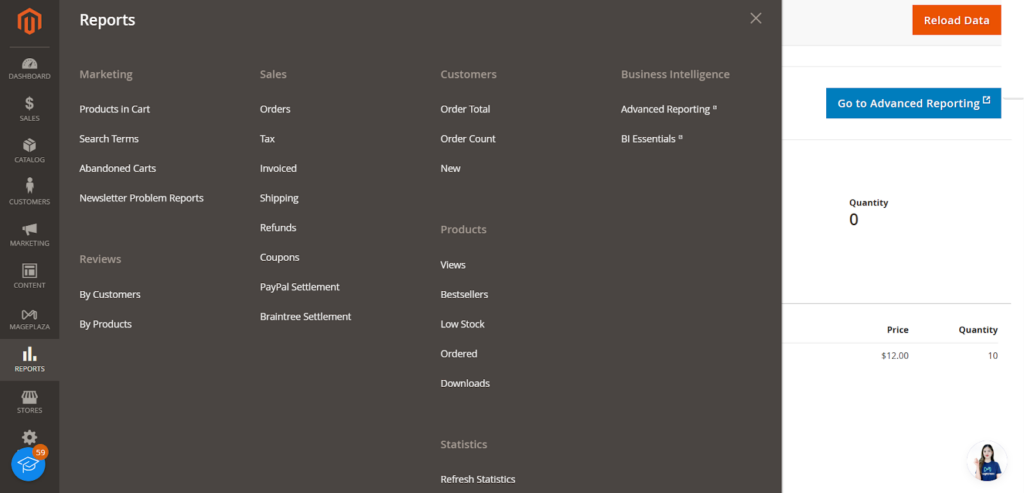 Screenshot taken on the official Adobe website
PWA Support
Through its open-source GitHub project known as the Magento PWA Studio, Magento allows the development of PWA websites. The tools included in this project make it easier to create, launch, and maintain a PWA store on top of a Magento store. PWA websites may function offline and are safe, quick, and responsive.
Benefits of Magento Open Source
Now that you know the main features of Magento Open Source, let's have a look at its benefits compared to other iterations of Magento 2 and eCommerce software.
Price
Magento Open Source is entirely free. This is only one factor that makes this version so well-liked among companies. The development community also provides regular updates, and any discovered security holes are instantly fixed. This is what makes Magento Open Source one of the most affordable and secure eCommerce systems that one might employ for their website.
Scalability
By utilizing a Magento Open Source, retailers get access to an extremely scalable eCommerce system. The interfaces and tools offered by Magento are simple to modify as your organization expands. You may also quickly incorporate Magento into your current website or company strategy since it is compatible with different technologies.
Security
Magento websites are protected against potential attacks and malware. Store owners may take advantage of real-time updates, schedule security audits, and resolve security problems easily. The necessary security information can also be obtained from the Magento security center. Store owners may pick up information on updates, security fixes, and best practices. Additionally, Magento may aid retailers in obtaining PCI compliance and SSL certificates.
Customization
Magento Open Source helps customize and alter the software to meet your specific demands. You have complete control over branding and design choices, which gives you a great deal of freedom in making decisions that affect the entire appearance of your store.
Variety of Themes and Extensions
To support the growth of your business, you may integrate various services. All extensions and service providers have undergone careful cross-checking by Adobe to ensure great quality.
You may quickly communicate with a variety of third-party services, such as payment systems, database apps, shipping, order tracking, etc. Additionally, Google technologies like Google Analytics, Google Checkout, and Google Base are integrated into the Magento platform to help you assess the effectiveness of your website.
Community Support
A sizable Magento community of dedicated programmers, webmasters, project managers, product managers, CEOs, and other experts helps and collaborates with everyone seeking assistance daily worldwide.
These teams provide owners with round-the-clock support to help them raise the standard and develop their online platforms. The Magento Community makes certain that everyone is kept up to date. You may always consult the community for the best fixes and advice if your Magento eCommerce website has issues.
Final Word
Despite the multiple valuable features and all the benefits Magento Open Source provides to eCommerce businesses, there are certain limitations you should be aware of, like complexity and certain extension conflicts. Apart from that, while Magento is highly customizable, making deep customizations requires expertise in its structure and coding standards. But even with these drawbacks considered, it's one of the best options available on the market today.