So you've been hit by a lightning bolt of inspiration. You know exactly what you want to tell the world. You probably plan to start a business, build your brand, or simply want to create content but your mind goes blank on how to do it.
Creating a blog is one of the answers, but it isn't as simple as you might think. While the content might come flowing out, many aspects of building a blog need to be considered. Search engine optimization (SEO) is one such hot topic, and knowing how to do it properly will make a massive difference to your blog's performance.
In this article, you'll learn 10 SEO practices for improving your blog performance on search engines. We'll cover on-page SEO tactics such as keyword research, link building, and mobile optimization, as well as off-page SEO methods such as meta descriptions, featured snippets, and other ranking factors.
By the end, you'll know exactly how to make the search engine work for you. And if you'd like to learn more about how to start a blog from scratch, click here!
A Basic Guide to Blog SEO
SEO doesn't have to be confusing. You can make various simple adjustments to your blog that will immediately make a difference in your search engine rankings. Let's dive in.
1. Keyword Research and Planning
Appearing on organic search results when people make search queries is essential. You want people to find your blog, which involves knowing how search engines understand the data on your website. Search engines will prioritize websites that feature a lot of relevant keywords. Google's algorithm needs to understand the content quickly to direct visitors to you.
It is crucial to know what essential words people use on search engines to find what they're looking for. This is called keyword research, and it's necessary to do it as much as possible. Use analytical tools such as Google Analytics or WordSteam to discover what kinds of related keywords you need to focus on.
With this knowledge, you can create content to meet the needs of your visitors. When writing a new blog post, you'll know what words will help you reach the right people.
2. Add Keywords to Blog Content
So you've done your keyword research. Now it's time to put it into practice.
If your blog is about gardening, and you use sentences such as 'how to cut a lawn' or 'planting a tree,' it will tell search engines that your website features valuable information for keen gardeners. If your blog aims to create a community around surfing in Los Angeles, then it's a no-brainer to include text that will be found by anyone using Google to search for the same thing.
You can add keywords in more subtle ways to improve your Google search rankings. For example, adding keywords to alt text on photos will help your blog site appear in image search results too.
3. Use Meta Titles and Descriptions
A meta description is an element of your blog page containing a short page summary. It's visible on the Google search engine underneath the site's title.
Here's an example of a meta description:

A meta description has an optimal length and should be snappy to make visitors want to click. A good meta description will boost your search ranking because, like the other tips we've covered so far, it's about making the whole experience for the visitor as worthwhile as possible.
The above example also contains a meta title that you should also set up – it's the name for the page displayed on search results. Keep it interesting, topical, and between 50-60 characters to make sure your content is easily discoverable.
4. Build Internal Linking
An internal link points to another page on your website. It fulfills two purposes. It allows the readers of your pages to seamlessly navigate your website and find other content. It also gives Google an idea of the structure of your website. Search engines find your pages quicker when they link to and from.
Internal linking helps create a hierarchy. The most important pages on your site lead to more specialist pages. It helps Google determine what your website is about and who to show it to.
5. Optimize the Blog for Mobile Devices
It's likely that most of your site's visitors access it on mobile. By 2025, more than 75% of all people are expected to use a smartphone to access the internet. Search engines prioritize websites that are optimized for mobile, so it should be a priority for you to make sure your website functions well in your hand. That means making it mobile-responsive.
There are plenty of ways to do so. Look at your site and consider how a user would experience visiting it on their phone. Make it easy to scroll through your pages, improve the page speed, and ensure your website's fonts can be read on smaller screens. This might seem obvious, but many websites are not mobile-optimized.
Advanced Guides for Blog SEO
Now you've got some SEO basics you can employ to improve your website quickly. We will dig a little deeper and examine some advanced search engine optimization techniques. Check out this guide for a comprehensive overview of advanced SEO techniques.
6. Organize Topic Clusters
Creating topic clusters is one of the biggest ranking factors that can add a significant boost to your Google rankings. It's essentially doing an audit of your blog's existing content and reorganizing it in a way that makes more sense.
Here's an illustration of a topic cluster: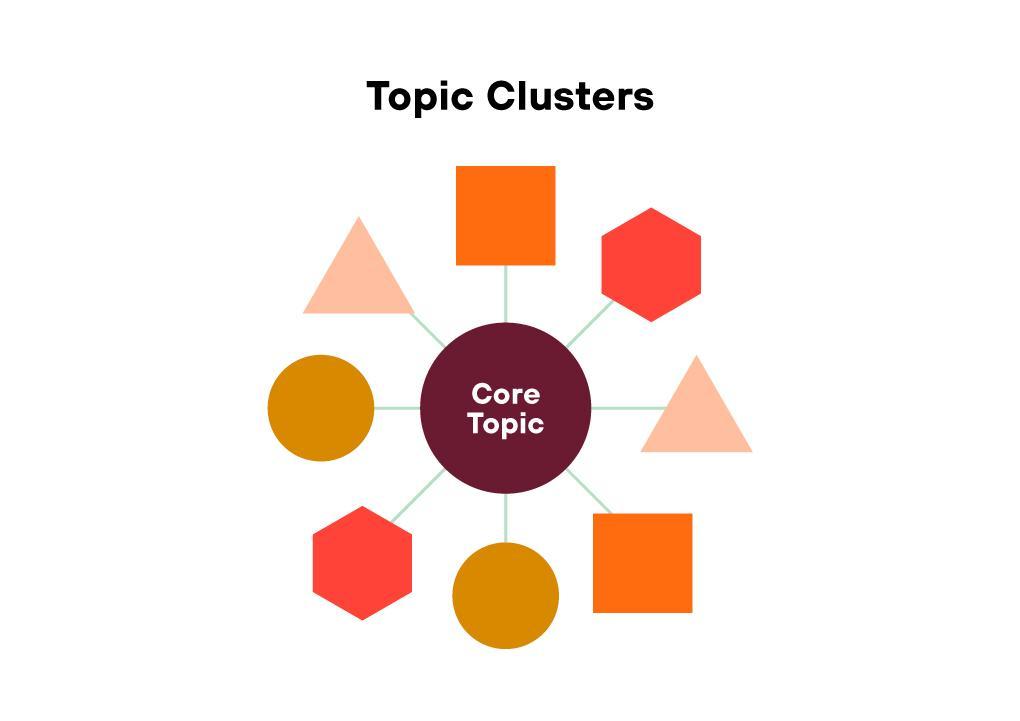 A topic cluster is like a house. Your website should be arranged in a way that's easy to navigate. Rooms should come off from the main hallway, and the kitchen and bathroom should be easy to locate. Your website should be intuitive, both for the user and Google.
How do you do this? Organize your blog site around a central 'master' page and consider it the place to which the other pages link. Make it logical and effortless to navigate. It's highly valued by Google, and search engine algorithms will reward you for it.
7. Submit a Blog Sitemap
Submitting a blog sitemap takes the idea of topic clusters one step further. You can submit a detailed map to your website via the Google Search Console. You can use a plugin such as Yoast to create a sitemap for you.
Your blog's sitemap lists the most important pages to make it easier for Google to crawl your website. Having a sitemap for a new website can dramatically improve your rankings.
8. Conduct an SEO Audit
What if you do something that negatively affects website rankings? Conducting a full technical SEO audit using a full range of SEO tools can highlight issues that might make the Google algorithm turn its back on you.
An SEO audit ensures your site is properly crawled and indexed by search engines. It identifies ranking factors and suggests how to get more organic traffic to your website.
You might lose out on traffic due to one or two issues. An SEO audit can help tame Google's algorithm and bump you up the search engine results. We recommend reading this SEO audit guide.
9. Optimize Content for Google Featured Snippets
Featured snippets are specific search results found at the top of Google. These snippets answer frequently asked questions, such as how tall Everest is or what the best things to do in Berlin are. They can be lists, sentences, or entire paragraphs, provided they answer the question.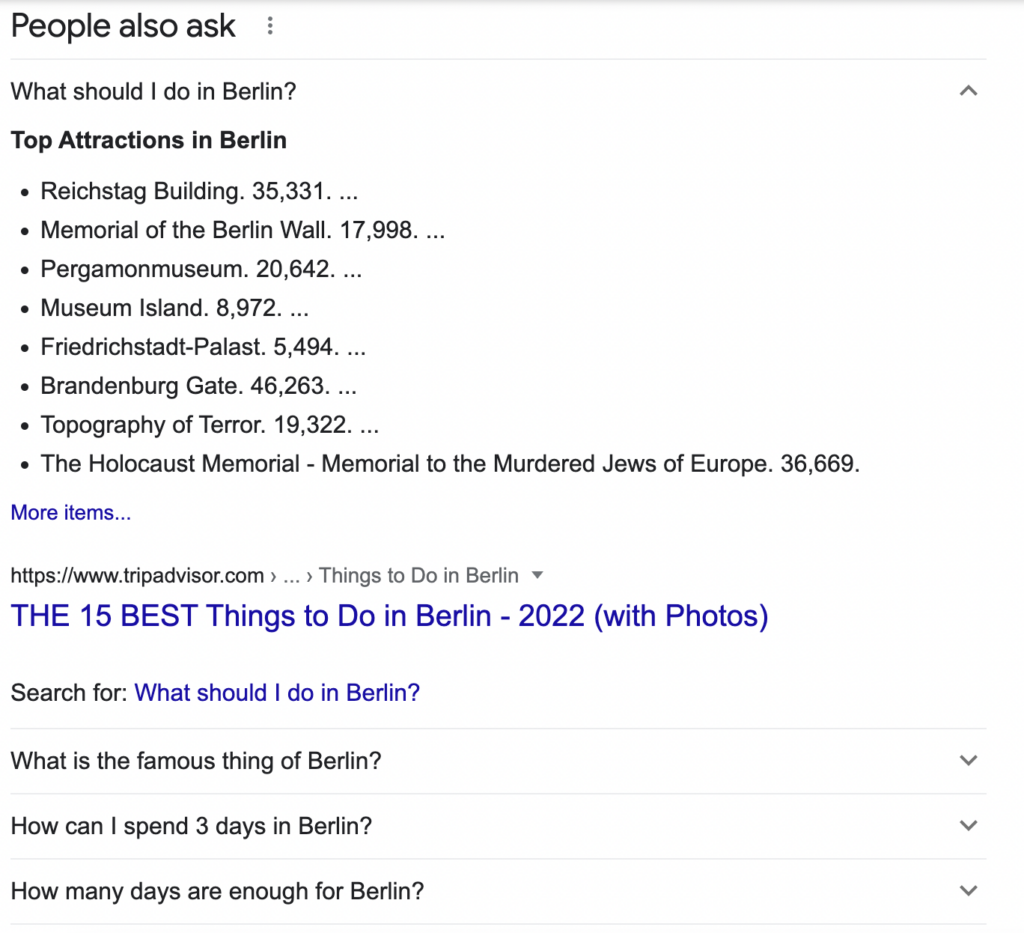 Optimizing your own site so it becomes one of the search results that answer the question is highly prized. How do you do it? Check out SEO tools such as Ahrefs or SEMrush and adhere to SEO best practices, such as the ones listed in this article.
10. Avoid Keyword Cannibalization
The right keywords and their usage are extra important for search engine optimization. Search engine algorithms often have very little to go on when crawling a web page, so it is crucial to use the correct language.
However, it's not about stuffing your content with as many keywords as possible. Overuse can do you more harm than good on search engine results pages because of keyword cannibalization.
Targeting a specific keyword across multiple pages will only confuse Google's algorithm. Which page should it display? Which one is most relevant? Are other sites offering more quality content? Cleaning up your pages and focusing your keywords will allow the algorithm to work better with your site.
Conclusion
We've covered a wide range of SEO tips that will help improve the chances of your blog appearing on the search engine results pages. These tricks range from basic to advanced, and knowing them will help you stay ahead of the competition.
Topics covered:
Keyword Research and Planning
Adding Keywords to Blog Content
Using Meta Titles and Descriptions
Building Internal Linking
Optimizing the Blog for Mobile Devices
Organizing Topic Clusters
Submitting Blog Sitemap
Conducting an SEO Audit
Optimizing Content for Google Featured Snippets
Avoiding Keyword Cannibalization